genotype : Aa, BB, CC, Dd, Ii, Ss, tb tb
HCM : echo doppler (clear/sain)
ADN mybpc3 (clear/sain)
PKD : clear
HD : clear
PARENTS

Sire :
Coralcoon Fester

Dam :
Broceliande Tabatha
2 mois, voilà le King
futur étalon de l'élevage de Broceliande arrivera très bientôt à la maison. Il est le petit fils de ma belle Ashanti avec des lignées très intéressantes aussi du côté de son papa.

2 months, Here's the King
futur Broceliande' Stud , he will soon join the crew. He's a grand son of my dear Ashanti with very interesting lines from his father too.



7 mois,
Le King se développe à grande vitesse avec déjà plus de 5,5 kg ! Son museau est bien long et carré avec un menton très fort. De grandes oreilles bien placées et le regard d'un roi.
C'est une montagne de tendresse, le roi des câlins;-)

7 months,
King developps very well and grow "high speed" with 5,5 kg ! He had a very long and squarred muzzle, with a deep and strong chin. Big ears well placed and a king look.
He's so lovely, full of tenderness, king of wheedling ;-)

10 mois,
presque 7 kg, il n'en fini pas de nous étonner. Cet Italien avec un développement extrême est aussi un mâle très précoce qui a sailli à l'âge de 8 mois et sera papa en Janvier 2006!

10 months,
nearly 7kg, astonishing young male with an extreme developps, he's also a precocious stud who bred for the first time at the age of 8 mounths and will have his first kittens in january 2006 !

CCG CHALLENGE, 2006

BEST OF BEST PML
5ème MEILLEUR CHAT toutes races

BEST OF BEST SML
5TH BEST CAT all breed
2 ans,
le King a un excellent développement, il a une excellente charpente et une fabuleuse musculature. c'est un chat splendide et son caractère est vraiment exceptionnel, il ne se lasse pas des câlins et nous partageons de grand moments de tendresse.

2 ans,
King as an excellent development,a fabulous muscular body high on the legs very well balanced. He's a splendid tomcat and his temper is really exceptional, we share greats moments of tenderness.


CCG CHALLENGE, 2007

11ème MEILLEUR CHAT toutes races
2ème MEILLEUR MAINE COON
4ème BEST reproducteur

11th BEST CAT all breed
2nd BEST MAINE COON
4TH BEST breeder
2,5 ans,
malheureusement le King s'est mis à marquer son territoire, j'ai dû me résoudre à le castrer pour le bien-être à la maison. Sa descendance est assurée avec la belle Cheyenne.
2,5 years,
unfortunately, King begin to mark his territory, I also did neutered him for a better home life. His marvellous kittens will start to continue these wonderfull lines. I hope with my lovely Cheyenne.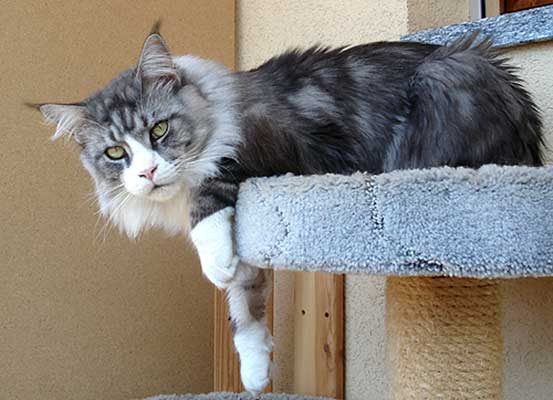 22 décembre 2011,
Le King s'est éteint, une étoile est née ...

King Arthur, le ROI de Broceliande portait bien son nom, il était l'ami de tous, des humains comme de ses congénères, qu'il prenait soin de toiletter du haut de sa "tour ", y compris le "bulldozer" (Excalibur) !!
Il était comme un pot de miel qui attire les abeilles, toutes les femelles l'aimaient et le suivaient amoureusement dès qu'il descendait de son trône. Moi, je n'avais qu'à faire un petit "braou" pour qu'il vienne aussitôt partager des câlins, il était le Seigneur et patriarche de mon royaume dans lequel il laisse un grand vide, mais je sais qu'il est devenu maintenant un ange au royaume du "coonparadise".
22. december 2011,
the Kin died, a new star is born

King Arthur, King of Broceliande well bore his name, he was the friend of all, humans and other companions, that he took care of groom from the top of its 'Tower', including the 'bulldozer' (Excalibur) he was like a honey pot that attracts bees, all the females liked him and lovely followed him as soon as he get off from his throne. Me, I just had to do a little "braou" so he comes immediately share hugs, he was the Lord and Patriarch of my Kingdom in which he leaves a large empty, but I know he has now become an Angel to the "coonparadise" Kingdom .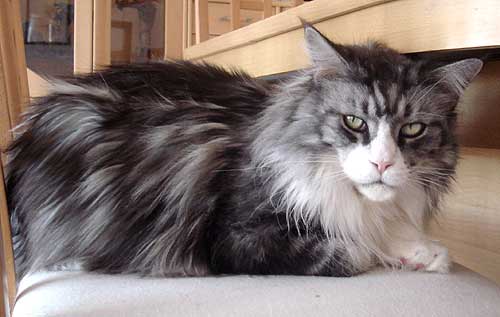 Résultats jugements traditionnels
Traditionnal Shows Results
| | | |
| --- | --- | --- |
| 04.11.2007 | Genève (CH) | nom |
| 03.11.2007 | Genève (CH) | BIV, nom |
| 25.03.2007 | Moudon (CH) | BIV - nom |
| 24.03.2007 | Moudon (CH) | BIV - nom |
| 25.02.2007 | Montbéliard (F) | BIV, nom |
| 13.01.2007 | Mercenasco (I) | BIV - BIS |
| 24.09.2006 | Port sur Saone (F) | BIV - BIS |
| 03.09.2006 | Speyer (D) | BIV - BIS - BOB |
| 01.05.2006 | Chambéry (F) | nom |
| 30.04.2006 | Chambéry (F) | BIV, nom |
| 29.04.2006 | Chambéry (F) | BIV, nom |
| 02.04.2006 | Riaz (CH) | nom |
| 01.04.2006 | Riaz (CH) | BIV - BIS |
| 12.03.2006 | St-Prex (CH) | nom |
| 04.12.2005 | Montreux (CH) | nom |
| 20.11.2005 | Reding (F) | BIV - BIS |
| 17.09.2005 | Annecy (F) | nom |