genotype : Aa, BB, CC, Dd, Ii, tb tb

HCM : echo doppler (due later)
HCM (N/N)
PKD (N/N)
SMA (N/N)
PKdef (N/N)
HD (Left : N/Right : N)
PARENTS

Sire :
Big Giant Resort
Ouzo for me

Dam :
Starbushway
Ari-Zona

Tsu-Nami est né en Allemagne chez l'une des plus ancienne éleveuse de maine coon en Europe (1983). Je la suivais depuis bien des années, le type et les lignées sont ceux que j'apprécie, en accord avec mon travail et mes projets, j'ai craqué sur ce joli bonhomme que je suis allé chercher le 26 juin. Il a de suite été à l'aise avec tout le monde, c'est un garçon très joueur, doux, hyper bien dans sa tête et très gourmand !



Tsu-Nami is born in Germany by one of the most old european breeder (1983) which I follow since many years. Lines and Type are what I like and in agreement of my way of breeding, I fall in love with this beautiful boy which I picked up on 26. June. He was immediately confortable with everybody, he's a playfull boy, sweet and very greedy !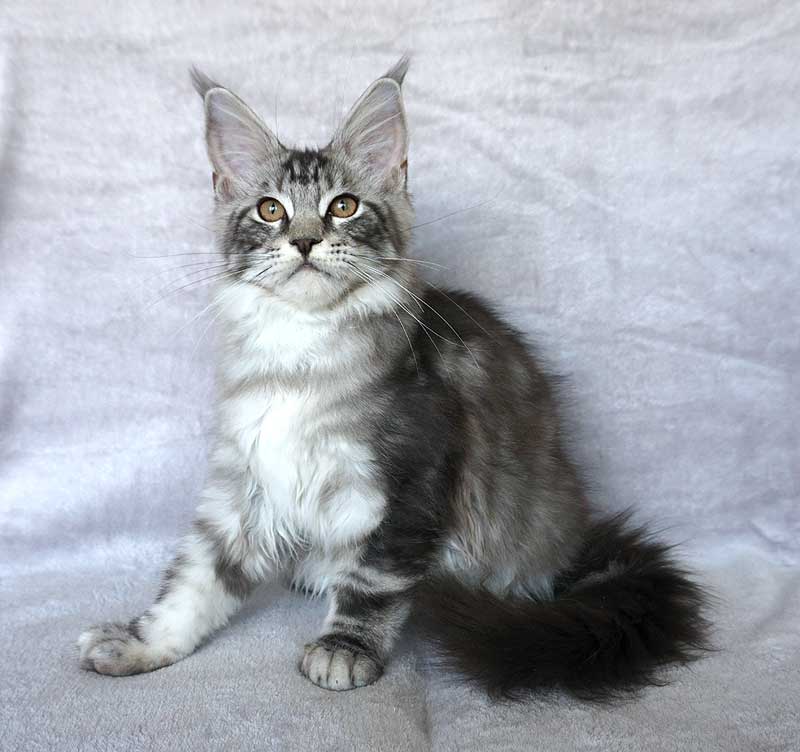 6 mois,
Tsu-Nami, se développe très bien, il est grand, lourd, puissant, très bien balancé. De magnifiques grandes oreilles bien placées et ouvertes à la base, bien fournies en lynx tips, un museau bien carré avec un super profil et un menton fort, il a une super expression. Il a une couleur très lumineuse et une qualité de fourrure incroyable avec une queue bien longue et très fournie.

6 months,
Tsu-Nami has an astonish development, a powerfull strong body well balanced, big ears, open and well placed with nice lynx tips. A very good squarred muzzle with a nice incurved profil, good chin and a very nice expression. He have a splendid shiny color well contrasted, an astonished fur quality with a very long fluffy tail.
| | | |
| --- | --- | --- |
| | | |