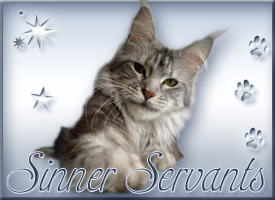 genotype : Aa, BB, CC, Dd, II, tb tb

HCM (clear/sain)
PKD (clear/sain)
PARENTS

Sire : Summerplace Watson-wyatt

Dam : Summerplace Obsession
6 semaines

6 weeks
4 mois,
ça y est, Monty est arrivé à la maison. Tout de suite il a été très à l'aise et ami avec toute la tribu. C'est un amour de chaton, très câlin qui nous donne des
"french kiss" !!
Il a un type très prometteur, de très belles et grandes oreilles très hautes placées, un long museau bien carré avec un menton fort et profond et une magnifique expession. A suivre ....

4 months,
Monty has arrived at home. Immediately, he was very friendly with the whole crew, nothing can afraid him. He's a lovely kitten giving us "french kiss" !!
His type is very promising, nice big ears well high placed, long and squarred muzzle with a deep and strong chin and a marvellous expression.
6 mois


6 months

10 mois


10 months

20 mois


20 months

Résultats jugements traditionnels
Traditionnal Shows Results
| | | |
| --- | --- | --- |
| 22.03.2009 | Bernex (CH) | BIV -nom BIS |
| 21.03.2009 | Bernex (CH) | BIV - BIS |
| 01.02.2009 | Colmar (F) | nom BIS |