genotype : Aa, BB, CC, DD, Ii, Ss, tb tb
PARENTS

Sire : QCHE
Willowplace Dearest wish of Broceliande

Dam : CH
Broceliande
Mercredi

2 semaines, mignonne ...

2 weeks, nice ...

9 semaines, mon choix est fait ....
Elle restera à la maison

9 weeks, I know now that she will stay at home
12 semaines, de plus en plus craquante !!
12 weeks, increasingly lovely !!
4 mois,
Xena se développe superbien. Elle est longue, lourde avec de très belles marques tabby et un silver des plus pur. Un excellent museau carré, de très grandes oreilles haut placées avec de beaux lynx tips et surtout c'est un vrai clown très à l'aise en jugement ...

4 months,
Xena develops well. She is long and heavy with a very nice tabby patern and a real clear silver. She has an excellent square muzzle, very large ears well placed with beautiful lynx tips and she is especially a show kitten.
5 mois
5 months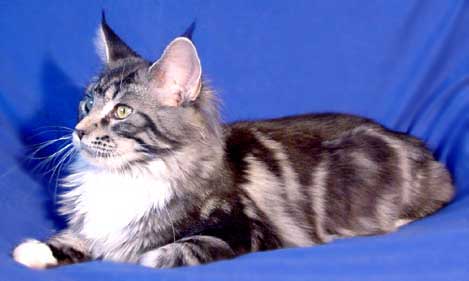 CCG CHALLENGE 2000

MEILLEUR CHATON
3ème maine coon
8ème MEILLEUR CHAT toutes races

BEST KITTEN
3rd maine coon
8TH BEST CAT all breed
8 mois
8 months
TICA CHALLENGE 2000-2001

9ème MEILLEUR CHATON Europe
2ème maine coon
en seulement 3 expos !

9th BEST KITTEN Europe
2nd maine coon
in only 3 shows !
1 an
Xena se développe au-delà de mes espérances, elle remporte beaucoup de Bests en jugements traditionnels . Elle aime les expositions et c'est toujours un clown qui ne pense qu'à jouer.
1 year
Xena develops beyond my hopes, she win much Bests in traditional shows . She likes shows and she's always the same clown who only thinks of playing.
CCG CHALLENGE 2001


SUPREME BEST OF BEST
CHAT SUISSE


SUPREME BEST OF BEST
SWISS CAT
20 mois
20 mounths
2,5 ans
2,5 years
CCG CHALLENGE 2002

Meilleur maine coon
MEILLEUR chat poil mi-long
4ème MEILLEUR CHAT toutes races

Best maine coon
BEST semilonghair cat
4TH BEST CAT all breed
3,5 ans
3,5 years
CCG CHALLENGE 2003

5ème MEILLEUR CHAT toutes races
3ème Meilleur maine coon

5TH BEST CAT all breed
3rd BEST maine coon

Résultats jugements traditionnels
Traditionnal Shows
Results
| | | |
| --- | --- | --- |
| 21.03.2004 | Sullens (CH) | BIS |
| 20.03.2004 | Sullens (CH) | BIV |
| 15.02.2004 | Mulhouse (F) | BIV - BIS |
| | | |
| --- | --- | --- |
| 07.12.2003 | Montreux (CH) | BIS |
| 06.12.2003 | Montreux (CH) | BIV - BIS |
| 16.11.2003 | Molsheim (F) | BIV |
| 05.10.2003 | Huy (B) | BIV - BIS |
| 04.10.2003 | Huy (B) | BIV - BIS |
| 21.09.2003 | Champagnole (F) | BIV |
| 24.08.2003 | Charleroi (B) | BIV - BIS |
| | | |
| --- | --- | --- |
| 17.11.2002 | Conthey (CH) | BIV - BIS |
| 16.11.2002 | Conthey (CH) | BIV - BIS |
| 22.09.2002 | Saint-Paulien | BIS - BOB |
| 14.04.2002 | Domodossola (I) | BIV - BIS |
| 13.04.2002 | Domodossola (I) | BIV |
| 03.03.2002 | Payerne | BIV - Nom |
| 02.03.2002 | Payerne | BIV |
| | | |
| --- | --- | --- |
| 27.10.2001 | Aarburg | BIV - BIS |
| 26.10.2001 | Aarburg | BIV - Nom |
| 12.08.2001 | Roselies (B) | BIS - BOB |
| 08.07.2001 | Gagny (F) | BIV |
| 24.06.2001 | Verbania (I) | BIV - Nom |
| 23.06.2001 | Verbania (I) | BIV |
| 10.06.2001 | Molsheim (F) | BIS |
| 20.05.2001 | Dôle (F) | BIV - BIS |
| 19.05.2001 | Dôle (F) | BIV - BIS |
| 29.04.2001 | Morvillars (F) | BIV - BIS |
| 18.03.2001 | Aubonne (CH) | BIS |
| 17.03.2001 | Aubonne (CH) | BIS |
| 10.02.2001 | Annecy (F) | BIS |
| | | |
| --- | --- | --- |
| 10.12.2000 | München (D) | BIV - BIS |
| 09.12.2000 | München (D) | BIV - BIS |
| 19.11.2000 | Giubiasco (CH) | BIV - BIS - BOB |
| 18.11.2000 | Giubiasco (CH) | BIV - BIS - BOB |
| 12.11.2000 | Rosenau (F) | BIV - BIS |
| 05.11.2000 | Villeneuve (CH) | BIV - BIS |
| 04.11.2000 | Villeneuve (CH) | BIV - BIS |
| 29.10.2000 | Ury (F) | BIV - BIS |
| 28.10.2000 | Ury (F) | BIV |