genotype : Aa, BB, CC, DD, Ss, tb tb
HCM : echo doppler (clear/sain)
ADN mybpc3 (heterozygous)
PKD : clear
PARENTS

Sire : TICA SGC
Moulin'crecy
Pheobus

Dam : DGCHE
TICA QGC
Broceliande Xena
très jolie et harmonieuse chatonne avec une excellente évolution.
Elle partira en Belgique chez une éleveuse toute enthousiaste.
Very nice and harmonious kitten, an excellent developps.
She will go to a brand new anthousiastic breeder in Belgium.
5 mois
Les quelques photos que je reçois me plaisent, Ubysse se développe très bien. Elle a un type extrême et elle est exactement ce que j'aime. Je suis fière d'elle ...
5 months
Some pictures sending by the owner enjoy myself. Ubysse developps very well. She's from extreme type and she 's exactely what I like. I'm very proud of her...
1 an
Quelle look !!

1 year
what a look !!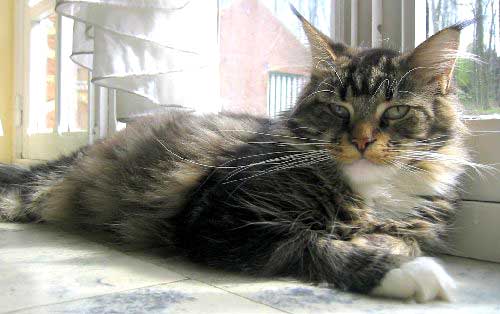 2,5 ans
Ubysse est de retour !
La propriétaire d'Ubysse ne peut plus s'occuper d'elle. Elle arrête l'élevage et place ses chats. C'est avec un grand plaisir que j'accepte de reprendre cette merveilleuse chatte à la maison.

2,5 years
Ubysse is back !
Ubysse' owner cannot take care anymore of her. She stop breeding and surch places for all her cats. I enjoy to keep this wonderfull queen back hom.
3 ans
Ubysse s'adapte très bien, elle a bien pris du poids et maintenant elle peut commencer sa carrière en exposition.
Elle a un type formidable, de belles gandes oreilles hautes placées avec de superbes lynx tips, un museau très long et bien carré avec un menton fort et profond. Des yeux magnifiques et très expressifs, c'est un ange ...

3 years
Ubysse feels now very well at home, she takes a lot of weight et can now begin a show career. She has a wonderful type, great ears high placed with great lynx tips, a very lonf muzzle, good squarred with a deep and strong chin. Wonderful eyes very expressive, she's an angel...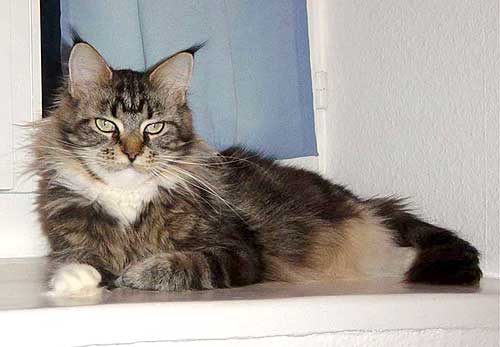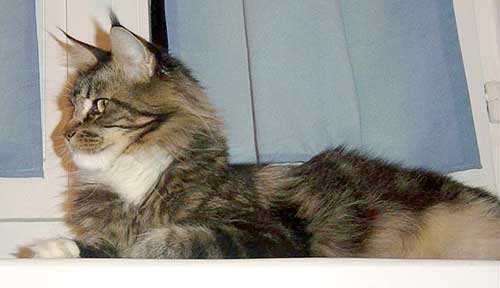 Résultats jugements traditionnels
Traditionnal Shows Results
| | | |
| --- | --- | --- |
| 01.05.2006 | Chambéry (F) | BIV |
| 30.04.2006 | Chambéry (F) | BIS |
| 29.04.2006 | Chambéry (F) | BIV, BIS |