genotype : Aa, BB, CC, Dd, Ii, Ss, tb tb
Free for HCM - PKD (indemne)
PARENTS

Sire : QCHE
Willowplace Dearest wish of Broceliande

Dam : GCHI
Broceliande
Roxanne
à 3 mois, une très belle femelle promise à un éleveur
at 3 months, a very nice female promised to a breeder
5 mois,
Shoshone se développe bien, elle me plaît beaucoup.

5 months,
Shoshone grows very well, I really like this girl.
1 an
Shoshone revient à la maison et y restera.
Elle est d'un excellent gabarit pour son âge, avec une splendide fourrure. Elle a un beau museau bien carré avec un puissant menton, de magnifiques yeux très expressifs et de belles oreilles fournies en lynx tips.
1 year
Shoshone come back home and will stay with us.
She is heavy boned from big size for her age with a splendid fur. A nice squarred muzzle with a stron chin, wonderful expressive eyes and nice ears well placed with nice lynx tips.

3ans
3 years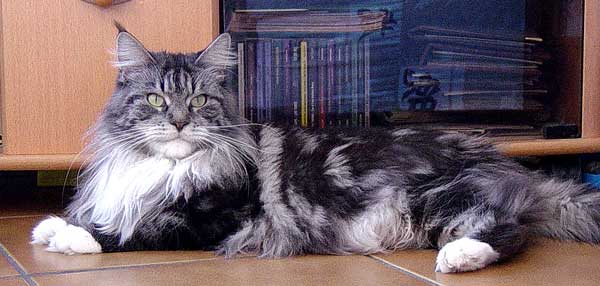 4 ans,
Shoshone est partie vivre chez Rachel (Lynx Tips city) où elle coule des jours heureux avec son compagnon préféré qu'est Skywalker. Elle fera encore des bébés avec lui, car le mélange est excellent.
4 years,
Shoshone leaves now by Rachel (Lynx Tips city) and Skywalker, hre great friend and will have kittens with him. This mating is of course really nice.