genotype : Aa, BB, CC, DD, tb,tb

HCM : echo doppler (due later)
ADN mybpc3 (clear/sain)
PKD : clear
PARENTS

Sire : 2xGCHE TICA CH
Coralcoon King Arthur
of Broceliande

Dam : GCHI
Lynx Tips City T'hara
of Broceliande
Il a fallu 4 ans de patience pour enfin voir une petite fille de T'hara. Cheyenne aurait pu s'appeler "désirée" .... À 3 semaines, elle promet déjà un type d'exception, à suivre ....

After 4 years of patience, T'hara give finally birth to a once girl. Cheyenne could have been called "desired".... At 3 weeks, she already have a promising type, following...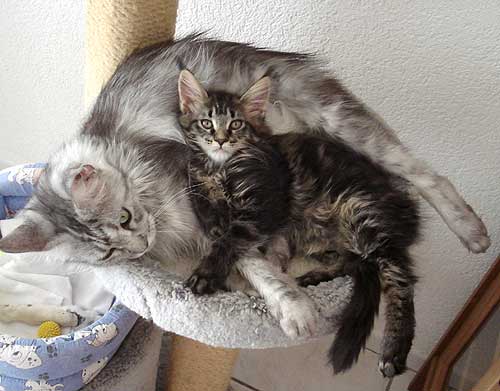 CCG CHALLENGE, 2007

MEILLEURE
chaton femelle pml

BEST
sml kitten female

11 mois,
Cheyenne a un excellent développement, plus de 5kg à moins d'un an et un type toujours aussi impressionnant. c'est une chatte très indépendante qui aime vivre à l'extérieur. Elle s'entend avec tous ses congénères, particulièrement son père mais ne cherche pas de câlins. J'espère qu'elle changera après avoir eu des bébés, c'est possible.

11 months,
Cheyenne developps very well with more than 5 kg and her type is well astonish. She's a independant girl who likes to leave outdoor. She is really friendly with all other coonies especially her father but she never come by us for wheedlings moment. I hope she will change after her first litter, it's possible.

Résultats jugements traditionnels
Traditionnal Shows Results

| | | |
| --- | --- | --- |
| 04.11.2007 | Genève (CH) | nom |
| 03.11.2007 | Genève (CH) | nom |
| 07.10.2007 | Avignon (F) | nom |
| 06.10.2007 | Avignon (F) | BIV - nom |
| 30.09.2007 | Yverdon (CH) | PS - BIS |
| 29.09.2007 | Yverdon (CH) | BIS |