genotype : aa, BB, CC, Dd, tb, tm

HCM (clear/sain)
PKD (clear/sain)

PARENTS

Sire : CHE
Twinky de Miranda

Dam : 2X GCHE
Broceliande Arwen
3 mois,
Abigael, la belle noire, c'était mon rêve depuis des années, et la voilà enfin !!

3 months,
Abigael, the beautiful black girl, that was my dream for a few years and now she is !!

5 mois

5 months
10 mois
10 months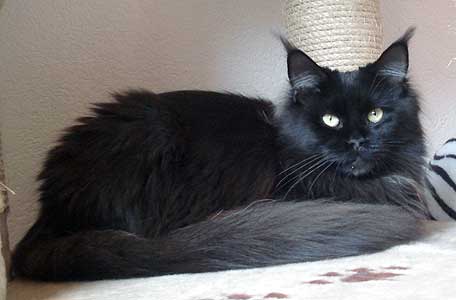 CCG CHALLENGE, 2007

MEILLEURE
jeune femelle pml

BEST
sml young female
2 ans,
Abigael se développe très très bien, 7kg, quelle gabarit !!
Une belle panthère noire bien charpentée avec une fourrure soyeuse et toujours en condition. Son museau n'est pas très long, mais très carré avec un menton puissant et un excellent profil. De belles oreilles grandes et hautes placées munies de fabuleux lynx tips et un regard ... waouw !
2 years,
Abigael developps very very well, 7kg, what a big girl !!
A real black panther well build with a silky furr always in condition. Her muzzle isn't so long but very squarred with a strong chin and excellent profile. Nice ears, great and well placed with fabulous lynx tips and a glance ... wow !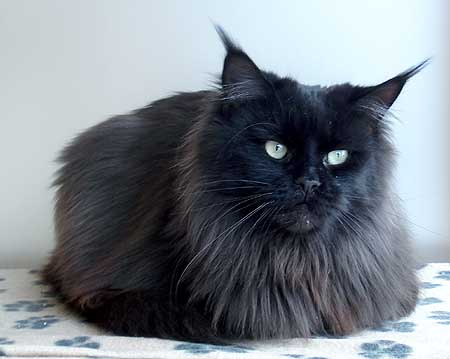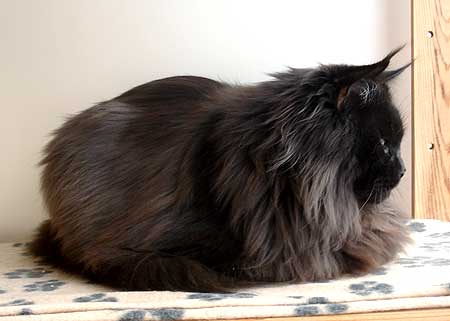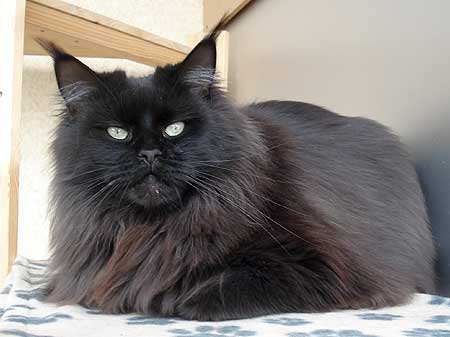 3,5 ans

3,5 years
CCG CHALLENGE 2010

3ème MEILLEURE REPRODUCTRICE

3rd BEST breeder
Résultats jugements traditionnels
Traditionnal Shows Results

| | | |
| --- | --- | --- |
| 30.11.2008 | Conthey (CH) | nom |
| 29.11.2008 | Conthey (CH) | BIV |
| 04.11.2007 | Genève (CH) | BIV, nom |
| 29.09.2007 | Yverdon (CH) | nom |
| 16.09.2007 | Blotzheim (F) | BIV - nom |
| 26.08.2007 | Neuchâtel (CH) | nom |
| 25.03.2007 | Moudon (CH) | BIV - nom |
| 24.03.2007 | Moudon (CH) | BIV - nom |